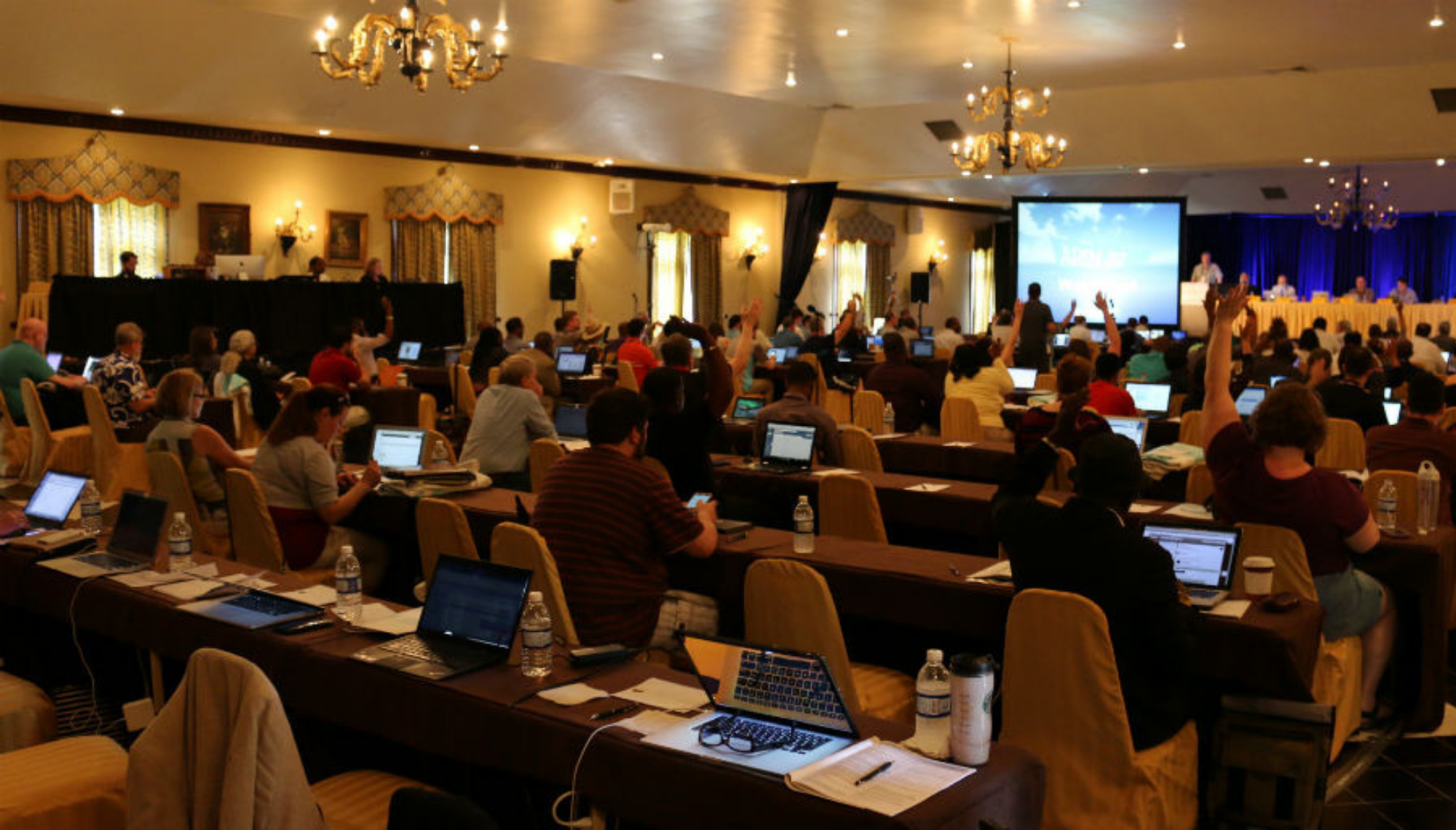 ARIN 37 Day 1 Daily Recap
Community members from across the ARIN region convened to discuss Internet number resource policy at the ARIN 37 Public Policy Meeting in Montego Bay, Jamaica. See below for a high-level view of what happened during the first day of ARIN 37 and check back in again on Tuesday and Wednesday for more daily recaps of meeting activities.
ARIN 37 unofficially kicked off yesterday with an orientation for first time meeting attendees and officially today with an overview of all on-docket proposals.  Next we took a look at the 25 total regional policies that are being discussed in five Regional Internet Registries (RIRs) year to date.  Then we heard a report on ARIN's policy implementation and experiences that identified areas where new or modified policy may be needed based on operational experience, especially digging into the practice of IPv4 transfers.
In a much anticipated panel talk, an impressive group of industry experts spoke about their own experiences with IPv6 deployment.  In sharing operational success stories, panelists offered their advice regarding IPv6 in the enterprise and took questions from attendees.
The two policies we discussed today included:
In the afternoon, we got an IETF Update that highlighted what happened at the most recent Internet Engineering Task Force (IETF) meeting, and Leslie Nobile, Senior Director of Global Registry Knowledge, provided insights on why it is important to update your information in ARIN's registry during a session on Whois accuracy.
We enjoyed your tweets about the meeting so far.  Here are some of our favorites using the #ARIN37 hashtag.  Keep up the sharing!
#ARIN37 kicks off in Montego Bay #Jamaica today pic.twitter.com/u1gJ0GM6Bd

— Bevil Wooding (@bevilwooding) April 18, 2016
Attending #ARIN37 First Timers' Orientation @HalfMoonResort Montego Bay Jamaica with @bevilwooding

— Claire Craig (@Claireccraig) April 17, 2016
John Curran kicks off the #ARIN37 Public Policy and Members Meeting. pic.twitter.com/GETDmxnIqu

— Craig Mollerstuen (@cmollerstuen) April 18, 2016
Discussing policies and such #ARIN37 #marinersolutions #Jamaica #ARINconference2016

— Stephi Mae Orr (@IT_gurugirl) April 18, 2016
I went to the mic in the policy development process for my first time at #ARIN37 and didn't die. If I can do it, you can too!

— Alyssa Moore (@lyssamoo) April 18, 2016
Engaging conversations happening here at #ARIN37! pic.twitter.com/pu2jNgxAyB

— ARIN (@TeamARIN) April 18, 2016
Okay….so I just met Vint Cerf at #ARIN37….widely considered one of the fathers of the internet and VP at Google – the Bawse!!.

— Mr Open Source (@trevorforrest) April 18, 2016
Up next at #ARIN37 "IPv6 Panel – Operational Success Stories". It's why I'm here!

— Craig Mollerstuen (@cmollerstuen) April 18, 2016
More importantly, #IPv6 needs a champion – an executive who sits at the resource-allocation table. https://t.co/4yTvQQZzy3

— Mukom Akong Tamon (@perfexcellent) April 18, 2016
All the cool kids are participating in #ARIN37 this week. Are you? pic.twitter.com/IBgtcrMQjO

— ARIN (@TeamARIN) April 18, 2016
Remember, you don't have to be with us in Jamaica to participate the next two days of ARIN 37. Remote participants have the ability watch webcasts, follow the live transcript, vote in polls, and submit questions and comments via chat.  All you need to do is register to take full advantage of our remote participation options. See you back again here tomorrow!
Recent blogs categorized under: Public Policy