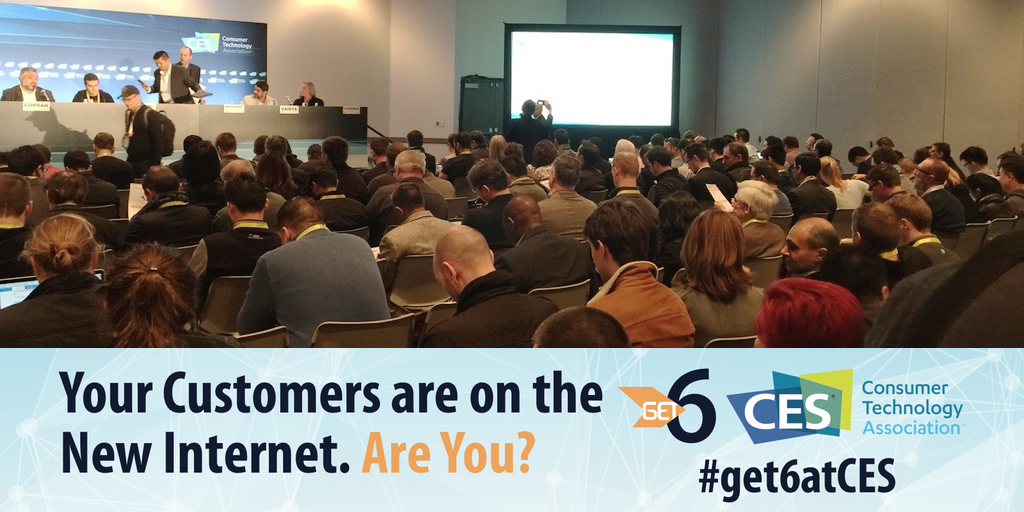 The Promise of Connectivity at CES Means Nothing without IPv6
For a few years now, we have been promised a bright future where connected devices all communicate with each other on the Internet of Things. If this year's CES was any indication, the consumer technology industry is just about ready to deliver on that promise with a flood of new devices and products that will transform the way we interact with technology on a fundamental level.
The future certainly looks bright, but what isn't mentioned in the keynotes and in booth pitches on the CES show floor is that the transformative effects of the Internet of Things will never be felt as long as device manufacturers, web content developers and consumer technology interests still operate on yesterday's Internet.
The reality of the Internet's current evolutionary state is known to every network engineer and IT professional from the largest ISP to the smallest start-up. In late 2015, ARIN, the American Registry for Internet Numbers, announced that they had exhausted their free pool of IPv4 number resources. This was an important announcement indicating the time had finally come to look beyond IPv4 to the future. To bridge the gap left by IPv4 exhaustion, consumer tech companies, service providers and websites must switch to IPv6, which will offer a near endless supply of IP addresses for the new Internet and the connected devices that wowed the 170,000 attendees at CES.
Here's the bottom line: IPv6 it isn't a "feature" for a new product or a talking point on a marketing brochure. IPv6 is a requirement for every connected device on the market today.
This sounds fairly clear-cut to the casual observer. Unfortunately, this isn't how IPv6 migration has been regarded by a large percentage of the consumer technology industry that is continuing to hold the adoption of IPv6 at arm's length. That's a problem that must be addressed before the IoT takes off and that's why ARIN decided to take the IPv6 message right to the audiences that matter at CES.
Working with our contacts at the Consumer Technology Association, ARIN scheduled a pre-show panel discussion for Tuesday January 5th on IPv6 titled "Your Customers are on the New Internet. Are You?" On the panel were some of the best engineers working on IPv6 deployment today. The all-star line-up was anchored by ARIN's president and CEO, John Curran, and included Paul Saab from Facebook, John Brzozowski from Comcast, Samir Vaidya from Verizon Wireless and Limor Schafman, from TIA. Moderating the panel was CTA's own Brian Markwalter.
The room in the North Hall of the Las Vegas Convention Center was standing room only and ready to hear some compelling information on the Internet's move to IPv6. Maybe there is some hope after all that the big guns in consumer tech finally "get it."
Each of the panelists offered a good deal of data and statistics to support their call for IPv6 migration, but one of the standouts was one fact presented by Facebook's Paul Saab. It's this:
The normal router found in the average home has the capacity to connect to about 50 devices with IPv4.That same router with IPv6 could connect every single device known to man.
Imagine that for a moment - one router with enough capacity to connect a near endless stream of devices with IPv6. This is the key that will unlock an entire ecosystem of devices for the IoT and sustain the estimated 50 billion connected devices that Cisco estimates will be on the market by 2020.
Here are some other key takeaways from the panel:
IPv4 has exhausted and for the Internet to evolve, companies, products manufacturers and web hosting companies can either advance to IPv6 or stay in the past. In other words, if you aren't moving to IPv6, your competitors are.

Comcast estimates that 97 percent of devices it sees are managed using only IPv6.

IPv6 is the connection method of choice for Facebook, with over 10 percent of the world's users connecting to the service over IPv6.

Facebook also sees faster connections over IPv6 compared to IPv4, offering users the opportunity to connect to their content faster over rival services.

Comcast has deployed IPv6 100 percent across its network and its next generation of the X1 Entertainment OS will be built natively on IPv6.

Old concerns over the cost of IPv6 deployment had been largely rendered unnecessary. The cost now for an IPv6 testbed is nothing compared to the costs associated with catching up to the rest of the IPv6 enabled world.

IPv6 allows for end-to-end connections without the need to rely on CDN translation. That means companies have a direct connection to their customers.
The statistics shared by the panelists illustrate the unavoidable fact that IPv6 adoption and the march towards the new Internet are intertwined and inseparable.
The IPv6 panel at CES was a success, but more work needs to be done to spread the message that IPv6 is here to stay. It's easy to sell the idea of a connected product at a show like CES. Who doesn't want a home that is smarter than its occupants? Why not have a smartphone that connects to my wearable device, my computer and my car? The promise of the Internet of Things is one of convenience and that's an easy sell for busy consumers looking to remove one more choice from their busy day. But all this promise of a connected future won't amount to anything besides lip service if we don't have a next generation Internet that can handle all of the connections and the flood of data it will generate.
ARIN will continue to spread the Get6 message to all who will hear it, but it is equally important that you – as a member of the Internet community - become an active participant. If you are reading this blog post, thank you. You've taken the first step. We now need you to take the next step by spreading the Get6 message to your colleagues and your online communities. Facebook, Verizon Wireless and Comcast are among those who have already begun to prepare for the New Internet. Are you?
Any views, positions, statements or opinions of a guest blog post are those of the author alone and do not represent those of ARIN. ARIN does not guarantee the accuracy, completeness or validity of any claims or statements, nor shall ARIN be liable for any representations, omissions or errors contained in a guest blog post.
Recent blogs categorized under: IPv6