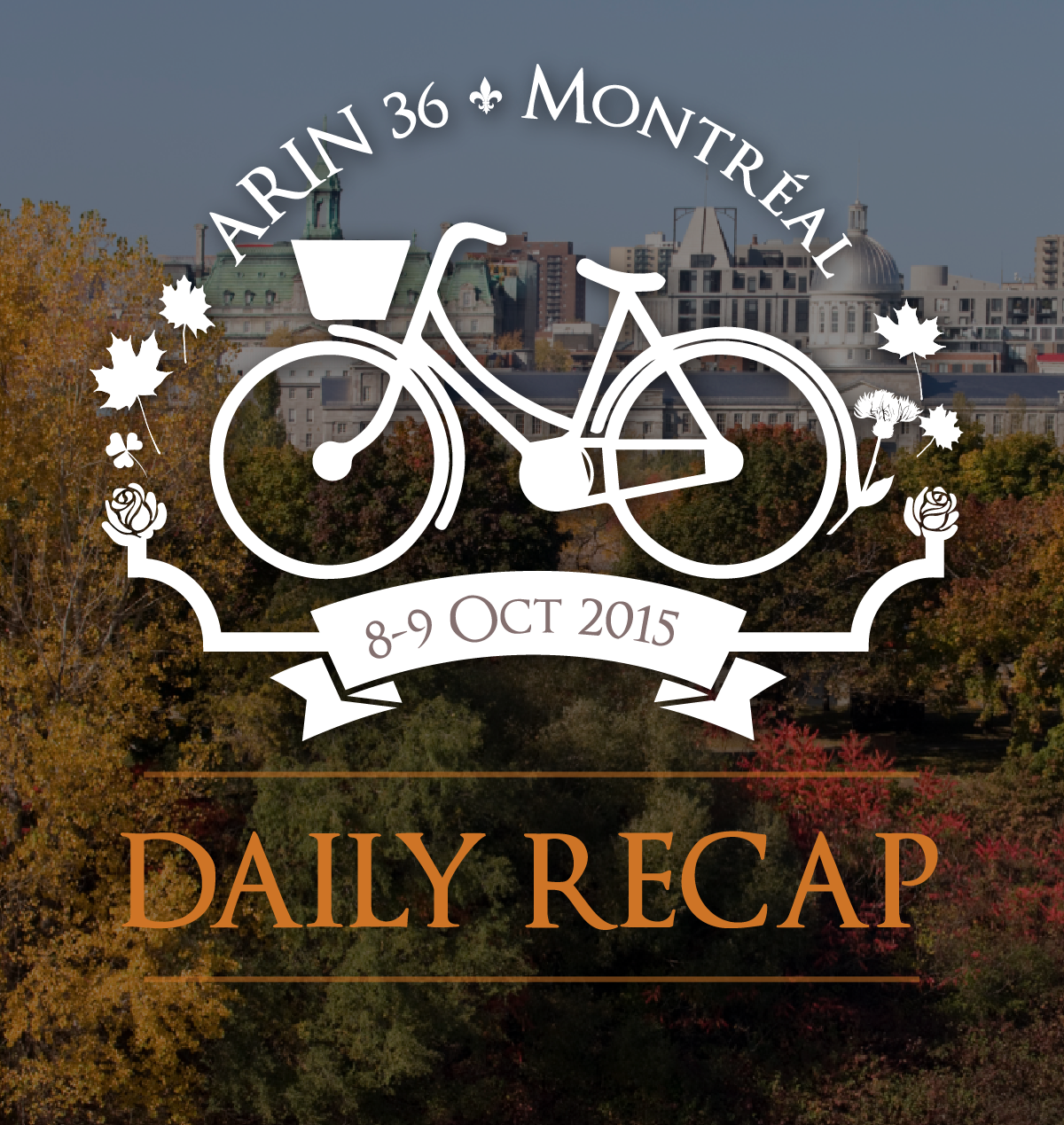 ARIN 36 Day 1 Daily Recap
From la belle ville Montréal, Québec, ARIN 36 Public Policy and Members Day 1 kicked off with participants from around the world.  Lots of engaging conversations flowed throughout the day and we are looking forward to more to follow tomorrow.  If you weren't able to join us onsite or online for today's activities, here's a quick recap of what happened:
The morning began with a first timers' orientation for the 60+ newcomers to an ARIN meeting, where staff welcomed and encouraged them to participate in the policy process. During the general session, the Advisory Council Chair presented on-docket proposals, which for today included the following 8 policies:
Recommended Draft Policies
Draft Policies
In addition to policy discussions, we also heard a report on IPv6 activities from the most recent Internet Engineering Task Force (IETF) meeting and an update on the IANA stewardship transition process.  Through a policy implementation report, the community received staff feedback on areas where policy could be clearer based on experiences.  We also heard about IPv4 depletion (it happened!), and ARIN fees and services, and NRO activities.
After lunch, candidates for Board of Trustees, Advisory Council, and NRO NC made speeches after which the election polls opened for voting. And finally, the day concluded with an open microphone session that allowed attendees to voice any last questions, concerns, or interesting tidbits on their minds.  If you would like to go back to something you heard today, presentation slides are already available and in the next few days the meeting webcast archives, transcripts, and summary notes will be posted as well.
If you're on social media, make sure to use the #ARIN36 hashtag on your favorite platform to help spread the word. For those of you on Twitter, you have a chance to win a $100 ThinkGeek gift certificate for tweeting with an original tweet including either #ARIN36 or #get6. Winners will be selected tomorrow afternoon after the meeting wraps up.  Here's a little bit of what we've been hearing so far:
@TeamARIN Everyone needs to #Get6 since there's no more #4 to get.

— gmitch64 (@gmitch64) October 7, 2015
Time for #IPv6 folks…there's no more v4 to be had…so #Get6 now!! What are waiting for, just do it 🙂

— Jeff Carrell (@JeffCarrell_v6) October 7, 2015
There's about as many #IPv6 devices on the internet as there is Apple OS X devices. #get6

— Arthur Wiebe (@artooro) October 7, 2015
I will be tomorrow at #Arin36 here in #Montreal

— Tarik @ OVH (@tbenammar) October 8, 2015
#ARIN36 first timers orientation started in #Montreal. Next day after #nanog65 pic.twitter.com/tdLFVIbP55

— Sergi Polischuk (@sergipolischuk) October 8, 2015
Record Canadian Attendance. #GoCanada @teamarin Bonjour, #ARIN36 begins! Follow the live webcast: http://t.co/3fIGkAVkfR

— Paul Andersen (@pandersen) October 8, 2015
Let's do this! Looking forward to the conference #ARIN36 #get6 pic.twitter.com/U5I0lCqvlQ

— Brian Bullard (@BrianBullard94) October 8, 2015
Kicking off #ARIN36 pic.twitter.com/Y0nELjnnV3

— Aaron Hughes (@aaronhaaronh) October 8, 2015
#arin36 ARIN by numbers over 20K customers with 5,230 members, 75 staff, 7 board, 15 Advisory council and 3 member Number resource

— ISOC Canada (@iscanada1) October 8, 2015
#ARIN36 http://t.co/YwKTVKLoIl Great flowchart.

— Mike Hammett (@mhammett) October 8, 2015
Day 1 of #ARIN36 in Montreal pic.twitter.com/tRc7IuMu7b

— Team EGI (@egihosting) October 8, 2015
@InfotecManitoba first time at #ARIN36 in #Montreal pic.twitter.com/Yf7pDKoKIB

— Infotec Manitoba (@InfotecManitoba) October 8, 2015
#peering plenty of ixp peering ipv4 prefixes available directly from .@TeamARIN #nanog #cloud https://t.co/KDccJMgvUG

— Martin Hannigan (@TheIcelandGuy) October 8, 2015
An #IPv4 address walks into a bar & asks the bartender for a CIDR because…he's exhausted #ARIN36 #lol joke from @jcurranarin

— ARIN (@TeamARIN) October 8, 2015
@jcurranarin of @TeamARIN discusses #IANATransition at #ARIN36 pic.twitter.com/vuPwKGkEIH

— Jason Hynds (@JSunHy) October 8, 2015
Good things come to those who wait – except for v4 – then you get nothing #ARIN36 #get6

— Zoë Rose (@5683Monkey) October 8, 2015
Participate remotely in @TeamARIN – live fr Montreal http://t.co/TtUnCu28Tw Discussions will b interesting on a variety of topics!

— Jane Coffin (@jane_coffin) October 8, 2015
Beautiful morning in Montreal for the #ARIN36 meeting. pic.twitter.com/1sZYhZRFkh

— Ray Bennett (@RayB118) October 8, 2015
IPv4, No!
Addresses run out – oh my!
Get IPv6. #NationalPoetryDay #Haiku #Get6

— 6connect (@6connect) October 8, 2015
340 undecillion ip addresses in IPV6. Enough to assign an address to every sand-corn on earth & more #ARIN36 pic.twitter.com/CXdwEw0BIB

— Swen (@netsaint) October 8, 2015
Donald Trump runs for ARIN BoT, says build a wall btw US and Canada, Canadians packets are "pouring in" #justkidding #ARIN36

— Milton Mueller (@miltonmueller) October 8, 2015
#get6 #ARIN36 Apple Will Require IPv6 Support For All iOS 9 Apps. see link:http://t.co/fe1HjZ3Fqi

— Brian E. Jones (@brianjusa) October 8, 2015
#ARIN36 Those who need a small block of #IPv4 address space to facilitate the transition to #IPv6 can come get it https://t.co/vRKYZekvRq

— Antonio Prado (@antoniopradoit) October 8, 2015
"Life after IPv4" – just one of the topic during #ARIN36 lunch. pic.twitter.com/ib6v88ZJg1

— Sergi Polischuk (@sergipolischuk) October 8, 2015
Please come back tomorrow morning for more great Public Policy Meeting sessions starting at 9 AM ET sharp followed by the ARIN Members Meeting scheduled through early afternoon.  I'll post another daily recap again at the end of the day as well. Until then, au revoir.
Recent blogs categorized under: Public Policy