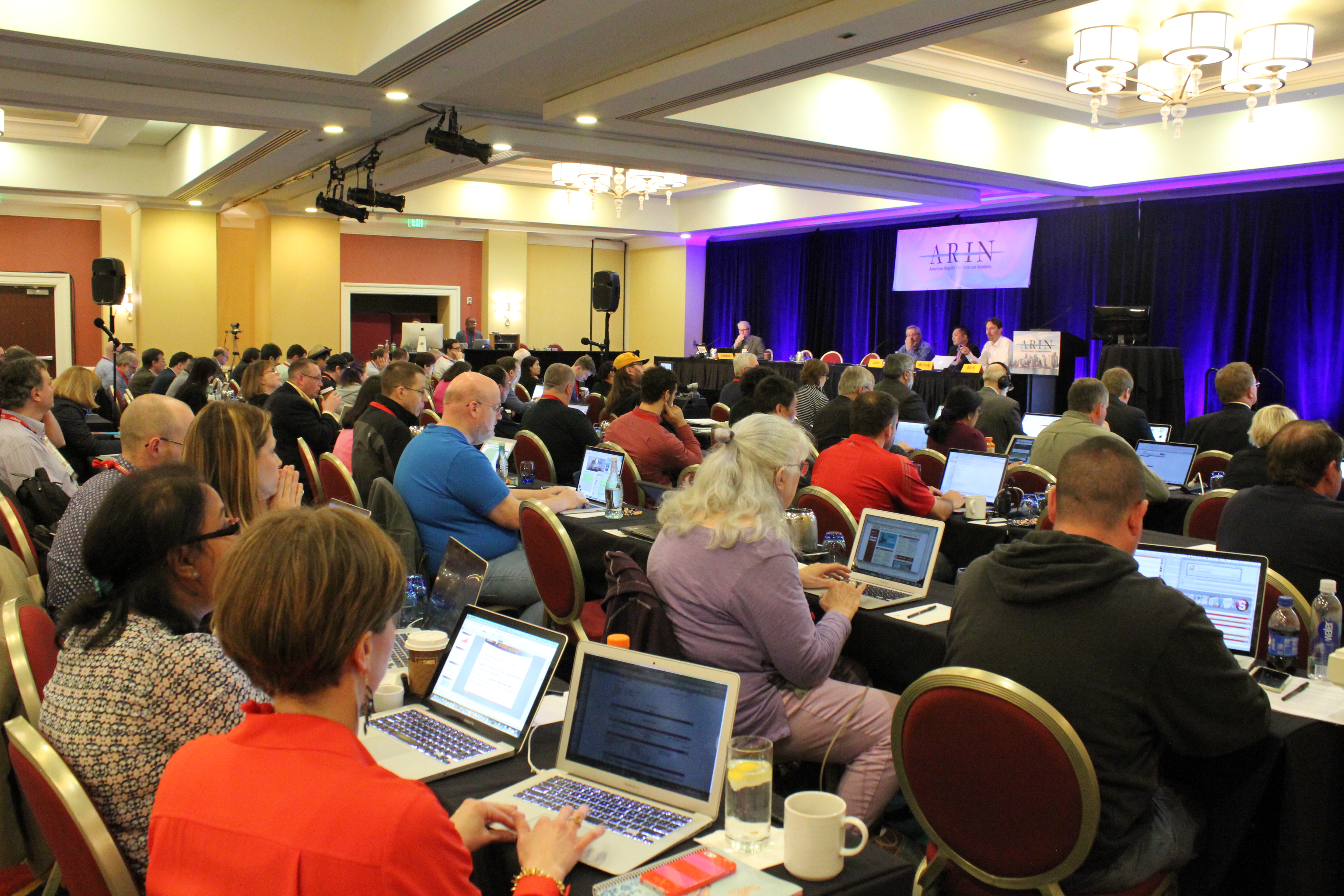 ARIN 35 Public Policy Meeting Daily Recap: Day 1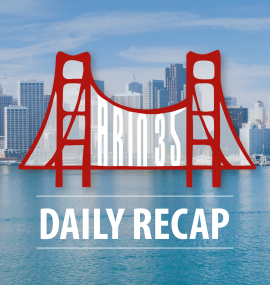 ARIN's Public Policy Meeting took place in the Golden Gate City today, bringing together Internet community members from across the region and around the globe to talk about the policies that determine how Internet number resources are distributed.
To start the day off, we heard from the Advisory Council Chair about on-docket proposals.  Then we took a look at regional policies that are being discussed in the four other Regional Internet Registries (RIRs).  We received a report on ARIN's policy implementation and experiences that identified areas where new or modified policy may be needed based on operational experience and customer feedback.  An IPv6 IAB/IETF Activities Report took a look at what is going on at Internet Engineering Task Force (IETF) meetings.
In the late morning, we heard from a Consolidated RIR IANA Stewardship Proposal (CRISP) Team Panel that reviewed the proposal submitted to the IANA Stewardship Coordination Group (ICG).  The panelists talked about the current status, the next steps, and they also took many questions from attendees.
The policies we discussed today included:
We wrapped up the day with an ARIN software development update.  Yesterday during ARIN 35, we had two great tutorials.  First, those who attended learned all about Resource Public Key Infrastructure (RPKI) in How to Certify Your ARIN Resources with RPKI.  The hands-on session walked through how to sign up for Hosted RPKI (in a test environment) and how to issue a Route Origin Authorization (ROA).  Second, during a tutorial on Life After IPv4 Depletion, we found out about the various options for obtaining IP address space as we near full IPv4 address depletion.  There was also an orientation for first time meeting attendees.
We enjoyed chatting with you on Twitter throughout the meeting.  Here are some of our favorites using the #ARIN35 hashtag so far.  Keep up the sharing!
Rare view of San Francisco for me at #ARIN35 held in JW Marriott. Nice! pic.twitter.com/Hh6dKG0KYi

— Arpad Kun (@ArpadKun) April 13, 2015
#ARIN35 opens in San Francisco. Watch here: http://t.co/hOKFnWAqyt @theNRO #APNIC @NANOG pic.twitter.com/hnVSULiVOJ

— Paul Wilson (@apnicdg) April 13, 2015
Kicking off the morning is John Curran at #ARIN35 – time to learn about how @TeamARIN policy is made

— Ed Horley (@ehorley) April 13, 2015
#RPKI tutorial at #ARIN35 pic.twitter.com/EGHPLM3MD3

— Andy Newton (@MoreThanABitOff) April 12, 2015
Interesting #CRISP #IANASteward discussions at the #ARIN35 meeting!https://t.co/uspkttFJDW

— Nurani Nimpuno (@nnimpuno) April 13, 2015
#ARIN35 about to report on #Internet Numbers community's #IANAsteward proposal. Remote participation avail @ https://t.co/nClFIqVSMV

— Joseph Catapano (@JosephCatapano) April 13, 2015
If you want to refer to anything you saw or heard at the meeting so far, today's slides are already up on our website, and the full webcast archives will be added at a later date.
Remember, you don't have to be with us in San Francisco to participate in the meeting.  There are still two more days of ARIN 35 left, and remote participants can watch the webcasts, follow the live transcript, vote in polls, and submit questions and comments via a Jabber chat room.  Please register to take full advantage of our remote participation options. Tomorrow we'll be back in session at 9:00 AM PDT and at the end of the day, we'll be posting another daily recap right here on TeamARIN.
Recent blogs categorized under: Public Policy