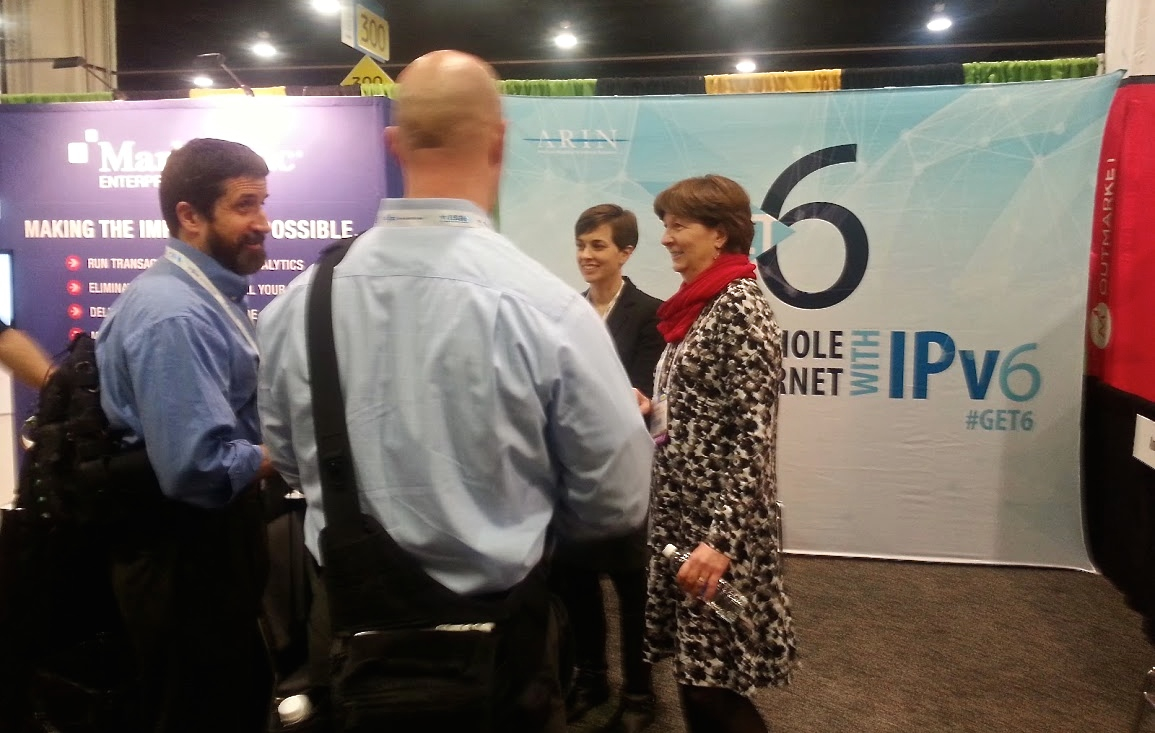 New Get 6 Campaign Launched at ASAE Tech Conference
After many years of outreach to our core community of Internet Service Providers, web hosting companies, cable providers and large academic institutions, we are branching out.  We are now working to drive all organizations with a web presence to put their content out over IPv6, with an emphasis on public-facing websites in particular. We took our new Get 6 booth to the American Society of Association Executives (ASAE) Technology Conference last week with the message to connect to the whole Internet with IPv6.
The new display worked well to draw in folks as the typical question we kept hearing was, "get what?"  We cut right to the chase by asking the association communications, marketing and IT folks, "Is your website important?"  Their obvious response was always "yes" and that provided us with an easy entrée to talk about why their website should be available over IPv4 and IPv6. We kept our message simple, "Ask your webhosting provider when they can turn up your website over IPv6." Lastly, we handed everyone a short checklist of things to do, especially if the association was large enough to be serving up its' own website.
As we move into 2015, we will be looking for audiences of CEOs, Chief Information Officers, Chief Marketing Officers, and communications/marketing/public relations directors to educate about IPv6. Our hope is that they will take our message back to their company have a three way internal conversation with IT, communications/marketing/PR, and the CEO who will need to support the business case to start the planning process. Getting public facing web services available over IPv6 is goal number one for businesses who want to thrive on the Internet. It isn't easy, but it's time to start.
If your company's website is currently running over both IPv4 and IPv6, we would like to hear from you! Be a role model and share on our TeamARIN site why you made the move.  Just drop was a note below or at media@arin.net.
Recent blogs categorized under: IPv6