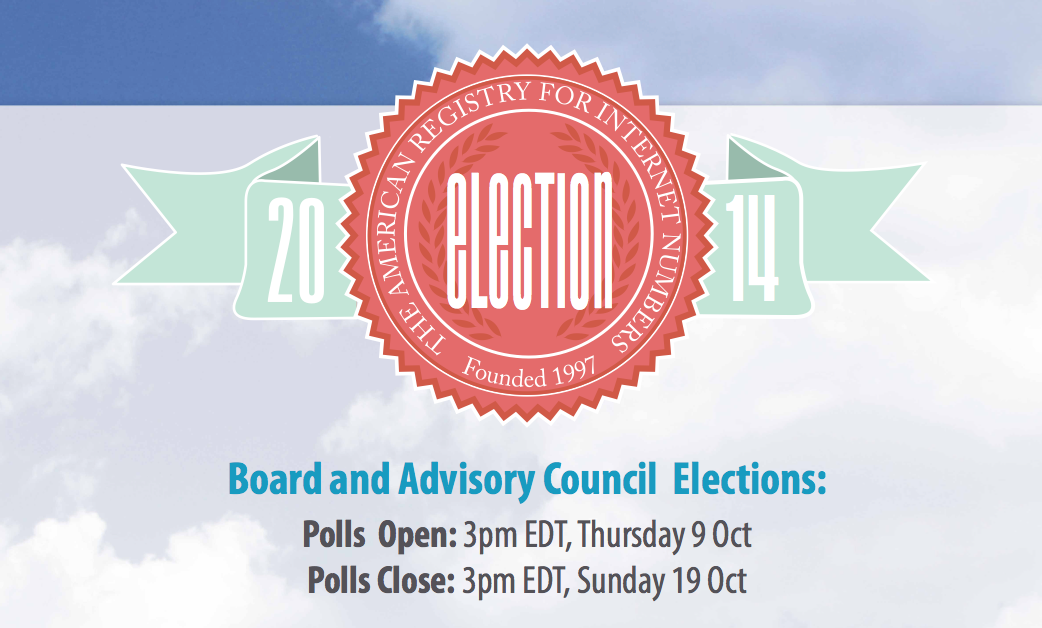 Vote Now in 2014 ARIN Elections
The polls are open in this year's ARIN Board and Advisory Council elections.  If you're a designated member representative (DMR), you are the person responsible for casting a vote on behalf of your organization.  Note than voter eligibility was set 60 days out from the start of the election, on 11 August 2014.   The election began on 9 October 2014 and will stay open through Sunday, 19 October at 3 PM EDT.
Voting in elections is the main responsibility and benefit of ARIN membership, so make sure you take advantage of this opportunity to shape ARIN leadership.  Each ARIN member organization may cast one vote, so all votes count equally, and your participation is encouraged.  Good voter turnout is a statistic we hope to hold up!
**Not sure who to vote for? **
This election, there are 2 seats open on the Board and 7 seats open on the Advisory Council.  You can watch each candidate's speech, given at ARIN 34 last week, by clicking on their name.
Board of Trustees
Timothy Denton, The Windermere Group
Bernadette Lewis, Caribbean Telecommunications Union
John Sweeting, Time Warner Cable
Bill Woodcock, Packet Clearing House
Advisory Council
Andrew Dul, 8 Continents Networks LLC
David Farmer, University of Minnesota
Nick Guy, Noel Communications Inc.
David Huberman, Microsoft Corporation
Timothy Kaufman, Net Access LLC
L Sean Kennedy, XO Communications
Leif Sawyer, General Communications, Inc. 
For more background on the candidates, check out their bio and/or statements of support.
Need instructions on how to cast your vote?
To get a full overview of the elections process and the specifics on how to vote, just watch this video:
http://youtu.be/SS_CJIpiKV4
More information about ARIN elections is available at our Election Headquarters, and as always feel free to ask us if you have any questions. Drop us an email at info@arin.net.
Recent blogs categorized under: Elections