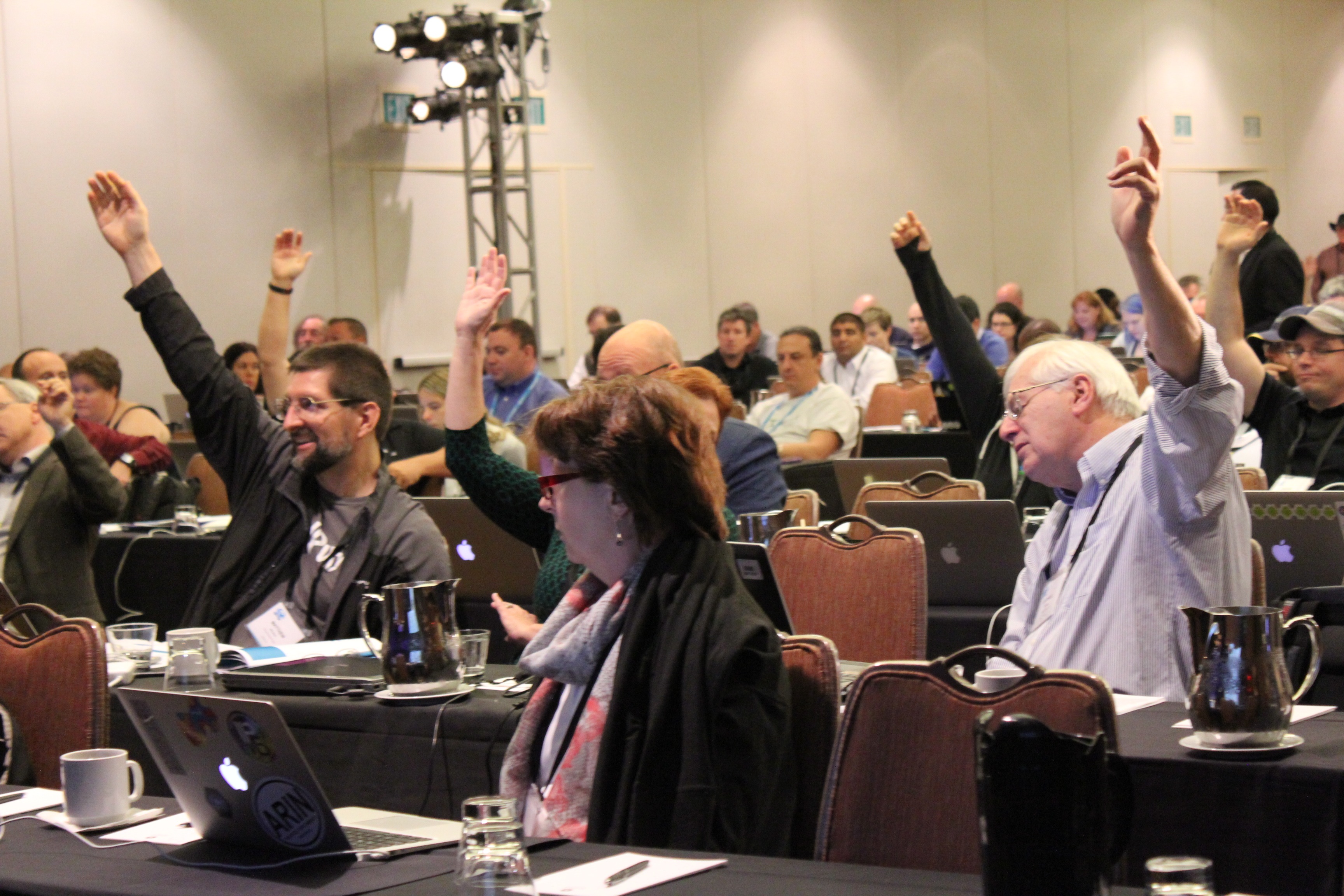 ARIN 34 Public Policy Meeting Daily Recap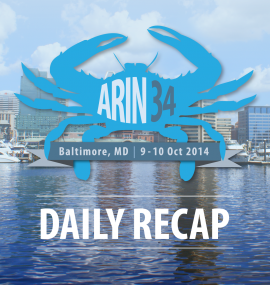 ARIN's 34th Public Policy and Members Meeting arrived in the Charm City to hold an open discussion of Internet number resource policies.  Lots of lively conversations ensued today, and more will follow tomorrow.  In case you weren't with us here in Baltimore, Maryland or online today, here's a quick recap about what happened along with some info on how YOU can participate in the meeting tomorrow.
We discussed a whopping 10 policies on day one of ARIN 34 including:
Recommended Draft Policy:
Draft Policies:
At the start of the day, first time attendees got up to speed on all things ARIN with an orientation breakfast.  Then we jumped right into the public policy meeting with a report on IPv6 IAB/IETF activities from the most recent Internet Engineering Task Force (IETF) meeting.  Next, a policy implementation and experience report reviewed current policies and provided feedback to the community.  Before heading into policy discussion, the Advisory Council Chair presented on-docket proposals.  After lunch, we heard a speech from each Board of Trustees and Advisory Council candidate before the polls opened and voting began.  The current and future software development update took a look at how ARIN engineering evaluates and prioritizes new projects.  Last but not least, an open microphone session closed out the day.
Perhaps the hottest feature today was the session on IANA Stewardship Transition Planning Process. ARIN President John Curran explained the current situation and presented ideas about how the ARIN community can contribute to the process.  There was talk about how to compile information from the ARIN community and RIR community as a whole to provide the IANA Coordination Group (ICG).  You can still share your feedback on the proposed process here, whether we need a new or existing ARIN mailing list to discuss these issues, and on questions for inclusion in the community survey that will open next week.
If you want to reference something you heard at the public policy meeting, slides from today's presentations are already up online. Soon to follow, webcast archives, transcripts, and summary notes will posted as soon as they are available.
Chance to win a $100 ThinkGeek gift card for most informative/entertaining or most RTed tweet with #ARIN34 in it pic.twitter.com/ZJGfA9U7yU

— ARIN (@TeamARIN) October 9, 2014
Do you tweet? Make sure to use the #ARIN34 hashtag for a chance to win a $100 ThinkGeek gift certificate.  Tomorrow afternoon we'll be awarding one prize for most informative or entertaining tweet using #ARIN34 and another prize for the tweet with the most retweets using #ARIN34.
Whether you are member of ARIN or not, you are welcome to participate in the Members Meeting portion of ARIN 34 that begins at 9 AM EDT Friday morning.  Remote participation information is available on our ARIN 34 site.  Plus check back on Team ARIN at meeting's end for another daily recap.
Recent blogs categorized under: Public Policy