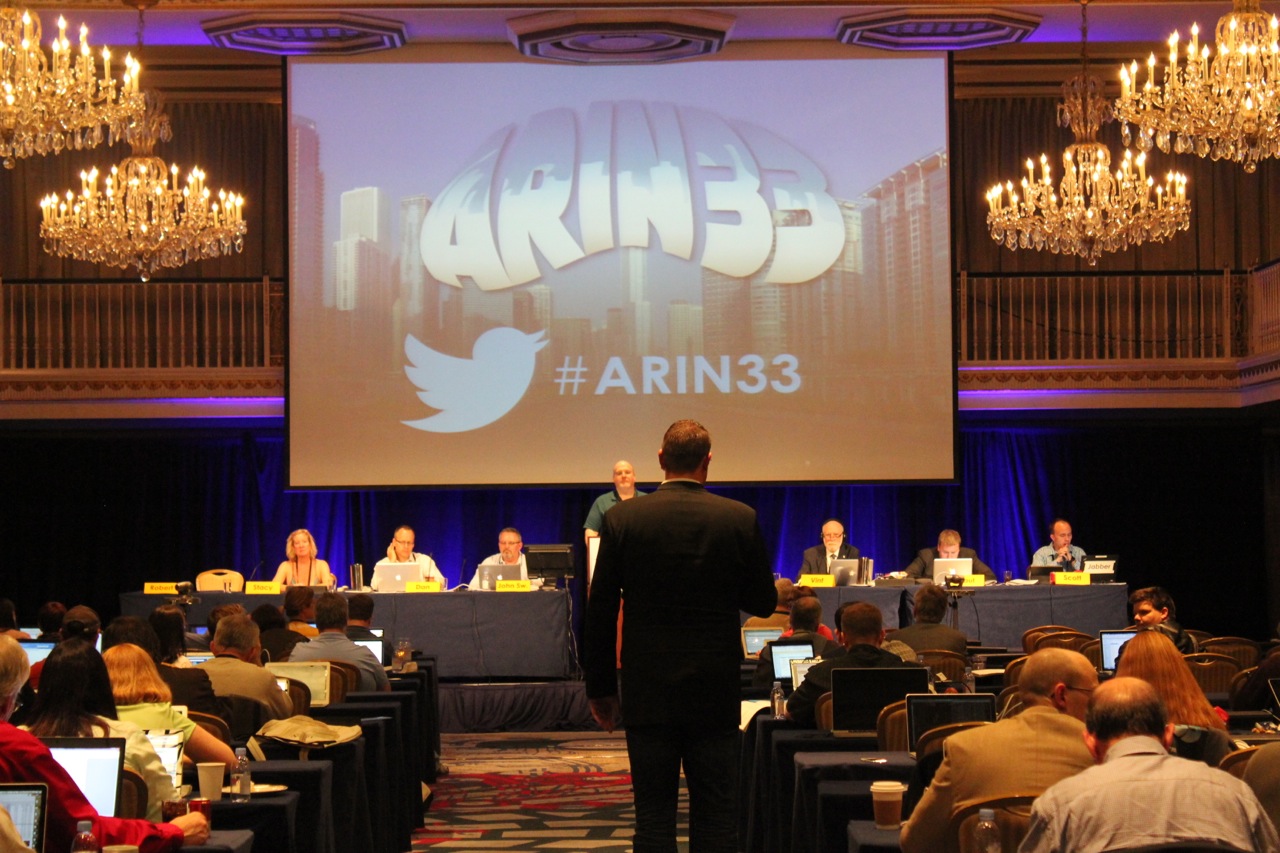 ARIN 33 Members Meeting Daily Recap
By Jennifer Bly, ARIN Public Relations and Social Media Coordinator, ARIN
Today's Members Meeting brought us lots of reports from the global Internet community.  During our first session of the morning, we heard from IANA on a variety of topics including their recent audit, customer service survey, performance standards, delegated new gTLDs, and community representatives for root DNSSEC key signing ceremonies.  A round of applause was instigated for the good work they do.  Other RIRs from around the world updated us on what is going on their respective regions.  Of particular interest: in the RIPE NCC region IPv4 transfers are increasing at a number of about 50 transactions a month, LACNIC could possibly reach their last IPv4 /9 as early as end of this month, and APNIC has seen an increase in new members largely due to smaller organizations coming in to get /22s.
Throughout the morning we were also told to expect a report from the ARIN fee structure review panel by the end of May which will be followed by online community discussion and a session at our next meeting in October.  We also received a report from the Registration Services Department, and a lot of interesting information was shared, such as:
ARIN has seen an 18% increase in IPv4 requests in the past 12 months & requests are becoming more complex

So far 71 transfers have been completed to specified recipients

23 Inter-RIR transfers have been completed from ARIN to APNIC

The IPv4 Churn shows 3.68 /8s received back since 2004 and a /8 equivalent returned to IANA in 2012

The ARIN IPv4 Countdown Plan Phase 4 will begin when ARIN reaches 1 /8 equivalent left
Similarly some interesting items from our Engineering Department included many highlights:
We had a successful conversion with validation of 100% of all data from Oracle to PostgreSQL

81,984 ARIN Online accounts have been activated since inception through Q1 of 2014

ARIN Operational Test & Evaluation is a great place to test code and process

We are doing lots of interops including RPKI and RDAP

We are creating APIs for core services that allow you to create tools and follow your own timeline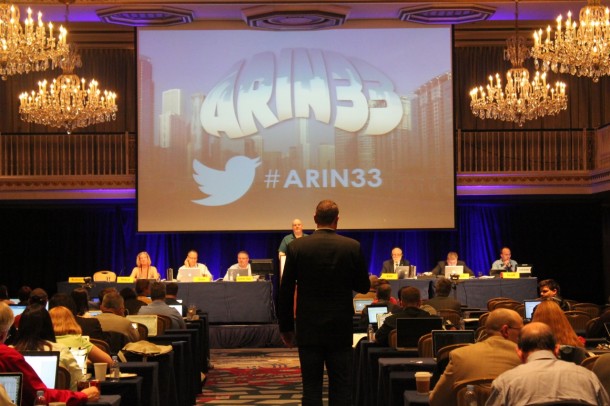 Lastly we got short and sweet reports on ARIN finances, the Advisory Council, and Board of Trustees. Concluding the meeting was one last chance for people to bring up additional topics during a final open microphone session, and much of the discussion focused on 2 byte versus 4 byte ASNs.
All of the slides from the Members Meeting are already on our website for you to download.  Stay tuned over the next few weeks for full transcripts, notes, and webcasts from every day of the meeting.  To all of you who attended and participated in ARIN 33, thanks for sharing your time, expertise, and insights with us this week!  Save the date for ARIN 34 in Baltimore, Maryland from 9 - 10 October 2014.
Recent blogs categorized under: Public Policy