2014 WTDC - Looking Forward
By Cathy Handley, Executive Director Government Affairs, ARIN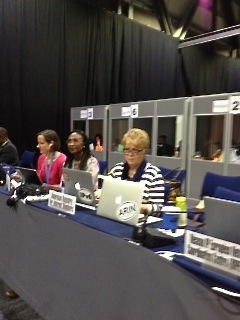 The 2014 World Telecommunication Development Conference (WTDC), centered on the theme of Broadband for Sustainable Development, came to a successful conclusion on 10 April in Dubai, UAE.
The general tenor of the conference was one of collaboration and open dialogue amongst attendees. The Regional Internet Registries (RIRs) were fully represented and involved. Speaking for ARIN, we were pleased with the amount of interaction with Member States who sought us out during the meeting and at coffee breaks to ask questions and share information. This was clear evidence of the positive progress interaction and acceptance between the public and private sectors has made since the last WTDC in 2010.
One Resolution of particular interest to our community is Resolution 63, "IP address allocation and facilitating the transition to IPv6 in the developing countries." This outlines the need for continued education, training and IPv6 capacity building. It invites Member States to engage with relevant parties such as the RIRs for technical guidance and information based on shared experiences throughout our communities.
While not all of the Resolutions discussed were specific to IP addressing, many covered topics that are just beginning to unfold and will have impacts on the Internet. Issues covered at this WTDC ranged from the introduction of Over The Top (OTT) mobile services to E-Health. The growing reliance on IP addressing for all of these services makes them relevant to ARIN and the RIR communities. In these early stages it is important to build a knowledge base for Member States discussing these Resolutions to ensure that future policy decisions are based on an understanding of the technical operations of the Internet, thus helping to ensure the continued stable growth of the Internet.
ARIN, as well as the other RIRs, will continue to work with the International Telecommunication Union (ITU) Development Sector and our respective communities toward achieving the end goal of unfettered Internet access throughout the globe.
Recent blogs categorized under: Internet Governance