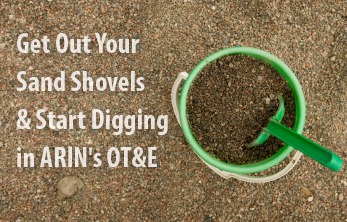 Still Testing in Production? Now You Can Test Your Code in ARIN's OT&E
By Steve Scally, Systems Administrator, ARIN
ARIN has developed some very helpful tools to help users learn about, request, and manage IP addresses and Autonomous System Numbers (ASNs) over the years. Our customers rely on things like ARIN Online and the Whois directory service to manage and monitor the resources their organizations hold. If your job entails keeping Internet number resource records up-to-date, you have most likely used these tools as well, perhaps even multiple times a day.
Our more frequent users have even developed their own tools to automate common interaction processes such as Shared Whois Project (SWIP) reassignment reporting. These tools allow for much-needed automation, but they can be difficult to test without a playground of non-production data to interact with. Enter ARIN's Operational Test and Evaluation environment, or OT&E.
First released back in 2011, OT&E has evolved into a full-featured counterpart to ARIN's production services, filled with mirrored data that gets refreshed from production on the first Monday of each month. If you have been looking for a way to familiarize yourself, your staff, or your software with ARIN's RESTful and RPKI systems, OT&E is the place for you.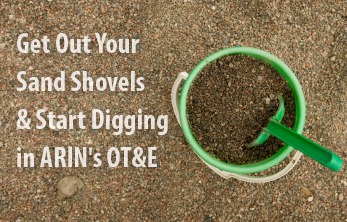 Ready to join and get started? Just log into your ARIN Online account and use Ask ARIN to request access! Once we vet your request we'll hook you up with an account and send you additional OT&E access details.
Visit ARIN's OT&E page for more information. Plus for all the latest and greatest on OT&E, subscribe to the arin-tech-discuss@arin.net mailing list.
Recent blogs categorized under: Updates