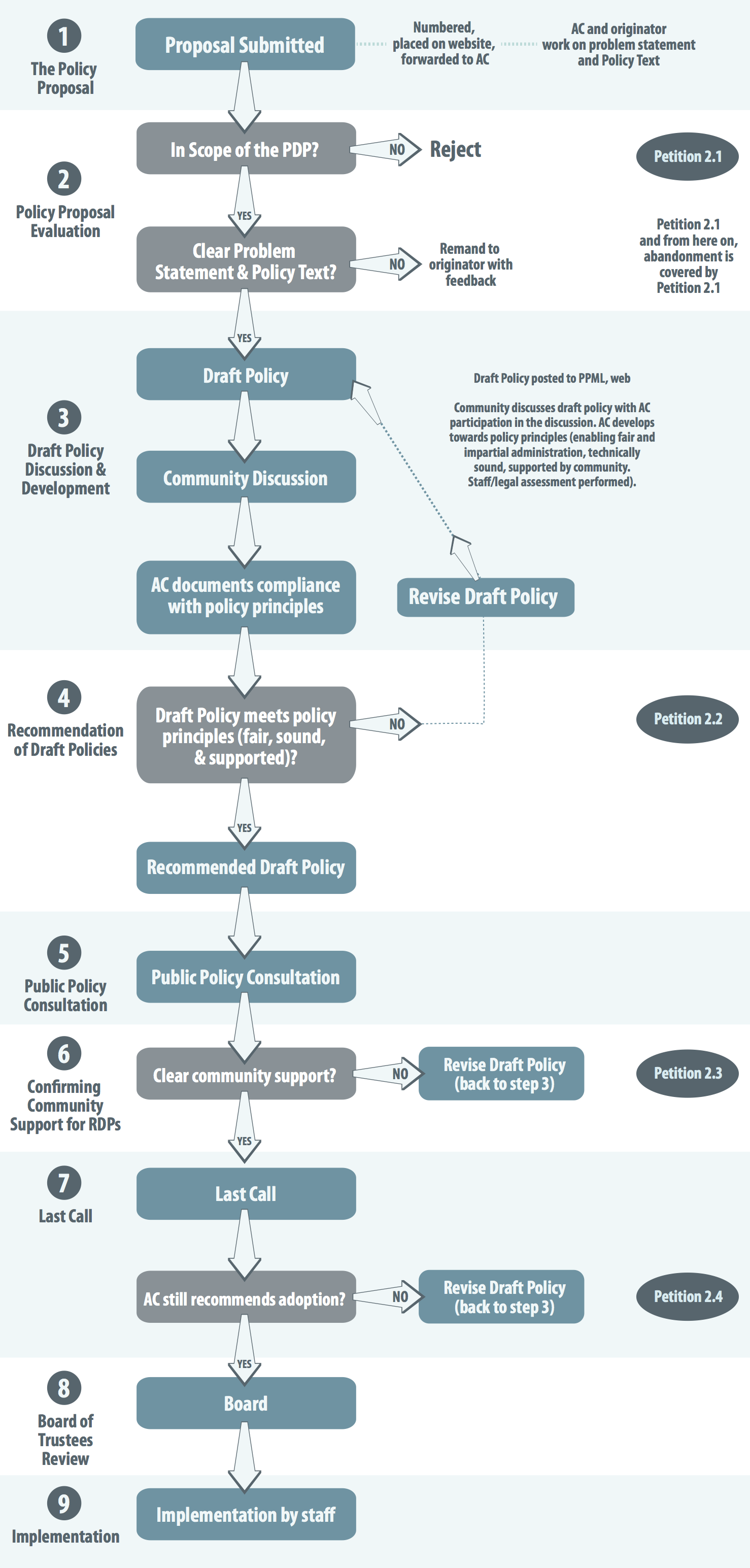 Follow the Policy Path from Proposal to Adoption
By Einar Bohlin, Senior Policy Analyst, ARIN
Today we are holding our Public Policy Consultation (PPC) at NANOG 60. Members of the ARIN Advisory Council (AC) will be presenting eight draft policies, one recommended draft policy, and three policy proposals. Let's look at what those terms mean.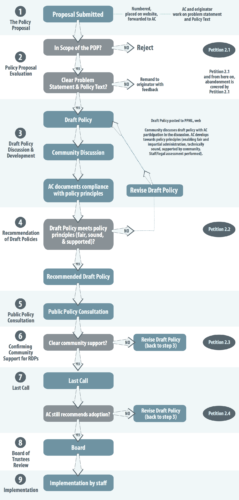 First of all, Po****licy Proposal. A policy proposal is simply a problem statement and an idea for a policy change (eg., ARIN-prop-197 Remove 7.2 Lame Delegations). The AC assigns shepherds to work with the proposal author to ensure that the proposal is clear and in scope.
If a policy proposal is confirmed to be clear and in scope by the AC, it's accepted as a Draft Policy (eg., Draft Policy ARIN-2014-4: Remove 4.2.5 Web Hosting Policy). Draft policies are posted to the Public Policy Mailing list for community discussion. The AC wants to know, is this good idea? Is it clear, technically sound and useful? If the feedback indicates that it is a good policy change, then the AC will work on the text until it is fully developed. It's at this stage that bad ideas are abandoned. The AC will request an ARIN staff and legal assessment. When the AC believes that the text is fair, technically sound, and has the support of the community (what we call "the principles") then the AC will recommend it for adoption.
After being recommended for adoption, we have a Recommended Draft Policy (eg., Recommended Draft Policy ARIN-2013-8: Subsequent Allocations for New Multiple Discrete Networks). Recommended drafts are posted to the Public Policy Mailing List with a statement from the AC that shows conformance with the principles (fair, technically sound and supported by the community), along with the staff and legal assessments. Recommended drafts must be presented to the community at a Public Policy Consultation before they can go to last call. After presentation and last call, if the AC still supports the Recommended Draft Policy, then the AC will send it to the ARIN Board of Trustees.
The Board of Trustees will evaluate to ensure that the Policy Development Process was followed, and a final check to make sure the policy is in compliance with ARIN's mission.
Shortly after adoption by the Board of Trustees, ARIN staff implements the new policy and incorporates it into a new version of the Number Resource Policy Manual (NRPM).
More information is available on the policy development page. If you want to get involved in taking ideas from proposal to adopted policy, there are lots of ways for you to join in – on our PPML mailing list, at our PPC today, or at ARIN 33 in the spring.  Get involved and let's talk policy!
Recent blogs categorized under: Public Policy