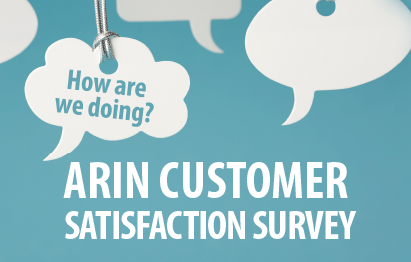 Setting a Customer Focused Approach
By Richard Jimmerson, Chief Information Officer, ARIN
ARIN isn't an organization I can stay away from for long.  I served a number of roles at ARIN over the course of 13 years, before moving to the Internet Society to implement new programs focused on deploying key Internet technologies.  I was excited to have the opportunity to return to ARIN and lead efforts to hone our focus on the customer and improve the way we serve our community. My main goal is to find out how ARIN's services and systems can better meet your needs. The first step to meet this goal is to find out exactly what your needs are. Where would you like to see us improve?
Tell Us How We Can Help You
For the next two weeks, we will be conducting a customer satisfaction survey to determine the current level of customer satisfaction with ARIN services and inform a path forward to make future improvements. Working together with a marketing research firm, Rockbridge Associates, we have developed a survey that will help us assess our performance in all areas of the organization, including Engineering, Registration and Financial Services, Policy Development, and Communications. The survey is open today through Friday, 21 February, so participate now. It should only take around 15 minutes to complete.
Your feedback is important to us, and we value your time to help ARIN improve services to you.
Win A Prize
We will be randomly selecting winners to receive a Nexus 7 tablet during the survey period. If you would like to participate, please provide your name and an email address on the final page of the survey. This information will only be used for the purposes of randomly selecting and contacting survey prize winners. The names of winners will be announced.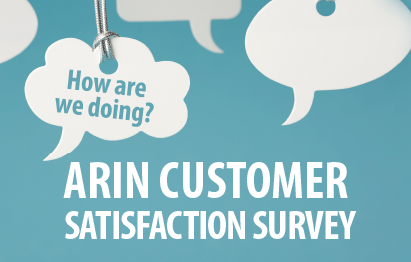 We are looking forward to your feedback in the survey and will work hard to respond to your needs.  I look forward to being your advocate to make interactions with ARIN as productive and efficient as possible.
Recent blogs categorized under: Customer Feedback
---
GET THE LATEST!
Sign up to receive the latest news about ARIN and the most pressing issues facing the Internet community.
SIGN ME UP →
---
Blog Categories
ARIN Bits
•
IPv6
•
Business Case for IPv6
•
Fellowship Program
•
Grant Program
•
Caribbean
•
Internet Governance
•
Updates
•
IPv4
•
Elections
•
Tips
•
Public Policy
•
Customer Feedback
•
Security
•
Outreach
•
RPKI
•
Training
•
IRR
•
Data Accuracy